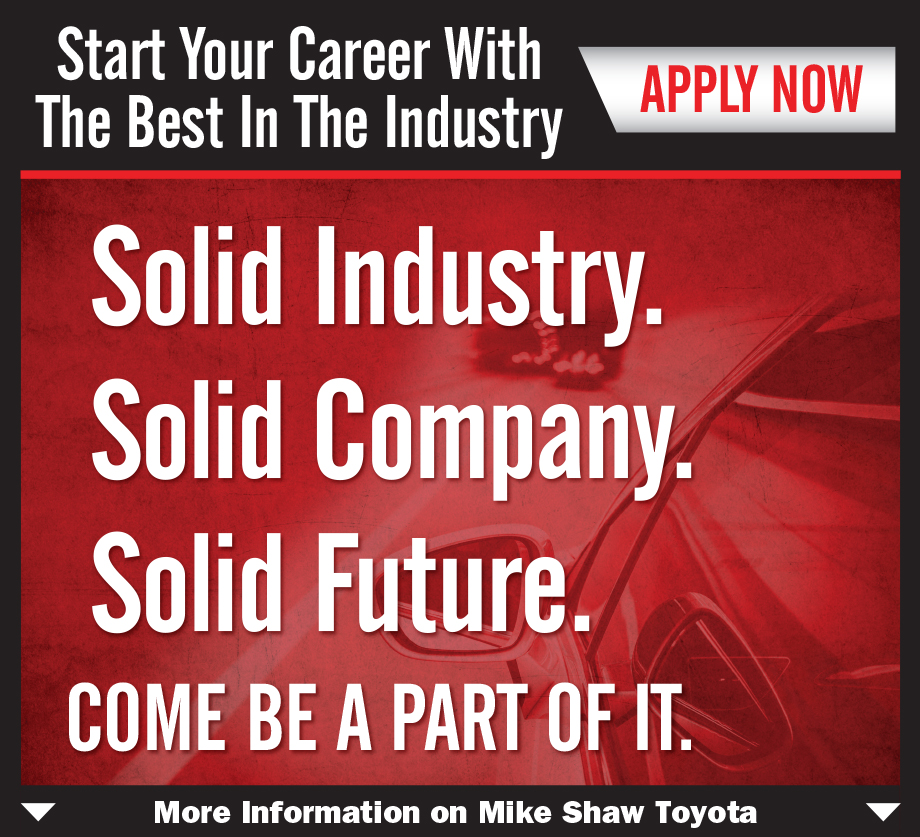 Toyota Employment Opportunities Near Corpus Christi, TX
Are you interested in a career within the automotive industry? Jumpstart your career with a position here at Mike Shaw Toyota! We are your trusted Toyota dealership serving Calallen and Corpus Christi,TX. Customers in nearby Alice and Kingsville, TX trust our experts to provide them with exceptional automotive assistance. Therefore, we strive to maintain a top-notch sales and service staff! Our employees work together towards a common goal to offer the best service in the industry. We are always looking for bright, motivated, and energetic professionals to add to our world-class team. If you feel that your skills would be a valuable asset to our customers, we want to get to know you!
Join Our Winning Toyota Team
At Mike Shaw Toyota, we are proud to offer great employment opportunities and employee benefits. So when you join our team, you have the ability to take advantage of perks that are exclusive to our staff.
We understand that car buyers want to work with staff that is knowledgeable about how to adequately satisfy their needs. Drivers near Corpus Christi and Rockport, TX trust our dealership to assist them with purchasing and sustaining quality vehicles. Therefore, when you join our team, you become part of a group of professionals who strive to go above and beyond to ensure customer satisfaction.
Our goal is to employ the best sales and service professionals around Texas. Check out the qualifications to see if you have what it takes to join our winning team.
Why Work at Mike Shaw Toyota?
Over decades in the business, we've seen that it's our people that make our dealership so successful, and we want to make work a rewarding experience here at Mike Shaw Toyota. That's why we offer competitive pay and benefits for our team, including insurance and a 401(k) match. We make sure everyone has the tools to excel, and we celebrate each other's achievements and success stories within a supportive, positive environment. It takes all kinds of skills and experience to serve our customers, and we'd love to hear from you whether you're a natural with sales, an ace finance expert, or ready for hands-on work in our service center.
Qualifications for Employment:
Sales Staff:
Must have the ability to work well alone, as well as on a team
Must have a drive and commitment to serve others
Must be able to communicate efficiently and effectively
Service Technician:
Must have previous experience with auto servicing
Must have the ability to demonstrate proper auto maintenance/repair techniques
Must have knowledge of how to care for Toyota vehicles
Do you have what it takes to join our team? Contact us for information about the latest employment opportunities.